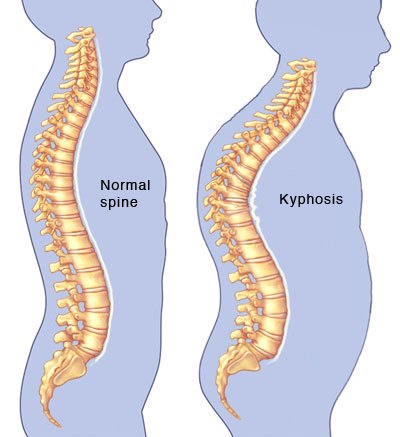 WHAT IS KYPHOSIS?
The spine has a series of normal curves when viewed from the side. These curves help to better absorb the loads applied to the spine from the weight of the body. The cervical spine (neck) and lumbar spine (lower back) have a normal inward curvature that is medically referred to as lordosis or "lordotic" curvature by which the spine is bent backward. The thoracic spine (upper back) has a normal outward curvature that is medically referred to as kyphosis or the "kyphotic" curve by which the spine is bent forward.
The spine is normally straight when looking from the front. An abnormal curve when viewed from the front is called scoliosis. Scoliosis can occur from design at birth or from rotation or an abnormal twisting of the vertebrae as from pain.
The normal curves of the spine allow the head to be balanced directly over the pelvis. If one or more of these curves is either too great or too small, the head may not be properly balanced over the pelvis. This can lead to back pain, stiffness, and an altered gait or walking pattern.
WHAT ARE THE SYMPTOMS OF KYPHOSIS?
The most common symptoms for patients with an abnormal kyphosis are the appearance of poor posture with a hump appearance of the back or "hunchback," back pain, muscle fatigue, and stiffness in the back. Most often, these symptoms remain fairly constant and do not become progressively worse with time.
In more severe situations, the patient may notice their symptoms worsening with time. The kyphosis can progress, causing a more exaggerated hunchback. In rare cases, this can lead to compression of the spinal cord with neurologic symptoms including weakness, loss of sensation, or loss of bowel and bladder control. Severe cases of thoracic kyphosis can also limit the amount of space in the chest and cause cardiac and pulmonary problems leading to chest pain and shortness of breath.